Pablo is a television series for children about an autistic boy who uses magic crayons to create a world of imaginary friends who explain the world to him. Each character represents a different facet of autism. The cast and nearly all the writers are autistic, and topics include things like explaining zips, face blindness, and how annoying it is when your food mixes.
It's really good.
In preparation for Season 2, which launches in September 2019, the Autistic Empire caught up with Grainne McGuiness, to ask some questions about the show and where it is going next.
Watching Pablo, the depiction of autism is spot on. How you did do that? I know all the writers are autistic, but they're also all spread out. So how did you find them?
Grainne: I have an autistic nephew, and when he and my children were small, they all used to fight a lot. And one day I thought things would be a lot easier if everyone understood a bit more about what he was going through. I also noticed that while they completely accepted him for who he was as a human being, the other kids in preschool may have found his flapping a bit different.
And so I wondered could you create a television show for kids that would expose them to the traits of autism? And by doing that, could you create an understanding? And from understanding, empathy? And then maybe they would not fight so much. That has moved on to our ambition being empathy and acceptance. It started with some desk research, where I came up with an idea that Pablo was a very creative little boy, and that he created an art world of his imagination.
His friends in the art world were all built around fairly obvious traits. Wren is a flapper, Mouse is sensitive to smells and sounds because she has big ears and a big nose. Tang can't control his limbs very well, and that works perfectly with an Orangutan. Noa doesn't have a lot of control of his movement, he's the dinosaur, and he knocks things over and walks through walls as his perception of space isn't great. And he has a lot of anxiety and a lot of over-empathy. Draff loves facts, he's a real fact boffin. He's kind of black and white, and in season 2 he actually introduces a cousin of his who's even more black and white. That's his cousin Ze, who is a Zebra.
So the idea was to put the traits of autism on screen, in a fun and funny way that all children would enjoy. I got it commissioned by broadcasters, and then we needed to start the writing process. We found a really experienced children's television writer called Andrew Brenner. He had written for lots of different shows, and he had a great interest in autism, and creating different stories in the kid's space. You try to come up with original stories all the time, and new ways of looking at the world. It's not just always about rainbows and birthday parties, although we do have rainbows and we do have birthday parties.
There's 52 episodes in series one, and he had the challenge of where do you get the stories from? And so he started talking to people, networking with people on the internet. One person was Donna Williams (who's now called Polly Samuels). She's autistic herself and a consultant, so she knew a lot of people and had helped a lot of autistic people. And so Andrew built up relationships with them, asking about their personal experiences in life, and wondering if those personal experiences could be turned around into stories that would deliver on the aims of the show, and be interesting to the preschool audience.
And he just started to meet really fascinating and creative people, who had lots and lots of stories to tell. He nurtured them through the experience, which could be something as simple as being in a coffee shop and just being completely absorbed in the aroma of the coffee, and completely distracted from everything else by the aroma. Or it could be something like face blindness, where Pablo doesn't recognise his mum anymore, because she's wearing a fascinator-type hat for a wedding, and he thinks there's a big purple bird in the house. He nurtured his new collaborators through the process of experience, and how can we turn that experience into a story for pre-schoolers. And then from that, a lot of them went on to write the scripts for the show themselves, and have become established writers for children's television in their own right now.
That was a process that was absolutely full of joy, because everybody was so excited to be doing it, and everybody was so good at doing it. For the Kids TV space, it meant new writers, new ways of looking at the world, really quirky humour, and it was just amazing. We had the best time ever making this show.
Then when it came to recruiting voice actors, we knew we'd really like to work with autistic people. But how do we do that? We thought it may be hard, and we had a lot of production questions as there's 52 scripts which is quite a lot. But we did our auditions, and we found our actors, and in all the years that I've worked in television, these were some of the most prepared. People who were delighted to be doing it, who wholeheartedly believed in the show, and who got into character and stayed in character.
By and large they over-delivered, and when we said thank you for coming and doing this, they said thank you for the opportunity. It just couldn't have nice been a nicer journey really. And all that good energy begets good energy. Now the point we're at in the journey is that we're about to launch series 2. We're going to have a 104 episodes of Pablo, and would like to do more. We're developing a musical theatre show, which were hoping will come out Christmas 2020. Penguin are doing 4 Ladybird books, all based on the series. We're also looking at other licensing and merchandising deals as well.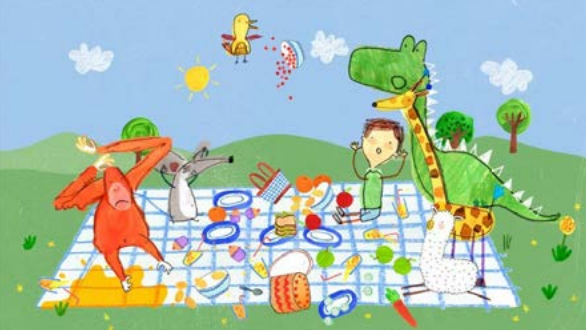 What's the reaction been from the children who watch it?
Grainne: We've had so many lovely comments. The show has won loads of awards, it's on all over the world, and it would only be that if kids wanted to watch it. Kids watch it because it's funny, because they love the characters, because they find the stories fascinating. They don't watch the show because Pablo's autistic, they watch because Pablo's a great character. Our hope is that by watching the show, they're coming to love characters with autism. So then when they meet kids in school who think differently, in all sorts of way, then they won't perceive that as being a barrier to making a friend.
How does your nephew you feel about it?
Grainne: He's delighted. He's a really lovely teenager now, he's 13. He's got a lot of changes going on.
The main actor is already 11, and he's supposed to be playing a 5-year-old. How are you going to handle that going forward?
Grainne: We'll have to see what happens. Right now, he's great actor and he wants to continue. We would like to do series 3 where Pablo goes into school, because I think that's the next natural step, and it's so necessary. It's important that teachers and classes and everybody in the school understands the perspective of autism. And I'm not convinced that there's resources in schools. So really what we want to do is create season 3 where he's in school, that challenging new world, and what his thought patterns are within that world. So that we can all understand what it would be like if you were five, on the autism spectrum, and going to school. I would love to do that. You know, life is full of change.
I really want to do the school one, because the bullying rates for kids on the spectrum is quite high. I think the statistic is 44 percent of kids on the autism spectrum say that they're bullied in school. I would imagine that's a very conservative estimate, because that's maybe the kids that know they're being bullied as well. We really need to tackle the early-years school space, because going to school if you have autism is probably hard enough without being bullied as well. So maybe we can fix the bullying bit.
I feel very strongly that there aren't enough resources in school. There still isn't enough awareness, and if we want acceptance then we need there to be proper inclusion. there needs to be more resources for special education needs in our system, and there needs to be more respect for all kinds of minds and skills. Schools are still very one-note. We need to celebrate all kinds of minds, and encourage adults and children to respect and get to know people who think differently because the world needs that right. The world needs people who think differently and aren't afraid to say.
Finally: why the name Pablo?
Grainne: Because I thought it was a nice word to say. It's an international name, so I thought it would travel, and also I thought because he's an artist that it tied in nicely with Pablo Picasso. So there's 3 reasons really.
PABLO IS ON AIR IN THE FOLLOWING COUNTRIES:
Viewers can watch on-demand on YouTube and through BBC Player and RTE Player. For more information visit @PabloTVShow on social media.
CBeebies. BBC Northern Ireland
RTE Junior. Ireland
Universal Kids. America
CBC Kids. Canada
NAT GEO Kids. America/UK
Kids ABC. Australia
Netflix. Worldwide
SVT. Sweden
RTHK. Hong Kong
Tencent. China
RTP. Portugal
NRK. Norway
YLE. Finland
True Visions. Thailand
Show Max. South Africa