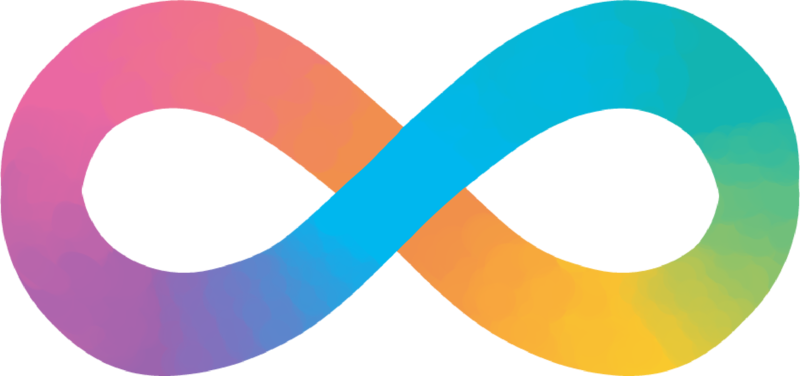 Autistic Pride Day was first celebrated in 2005 by Aspies for Freedom and it quickly became a global event which is celebrated widely online and offline. AFF modelled the celebration on the gay pride movement.  According to Kabie Brook, the co-founder of Autism Rights Group Highland (ARGH), "the most important thing to note about the day is that it is an autistic community event: it originated from and is still led by autistic people ourselves", i.e. it is not a day for other charities or organisations to promote themselves or stifle autistic people. The rainbow infinity symbol is used as the symbol of this day, representing "diversity with infinite variations and infinite possibilities".
The purpose of Autistic Pride is to show to the world that we are proud of being autistic and that we are not diseased or defective or in need of a cure. We have as much right to live a happy and fulfilled life as neurotypicals.
For much of the time many of us suppress or feel ashamed of our autistic behaviours. For this day we can cast any shame aside and be ourselves. The purpose of an Autistic Pride event is to create a space for autistic people to allow us to be ourselves.
For more background information on Autistic Pride, you can read a speech given by organiser Joseph Redford at London Autistic Pride 2019 here.
Upcoming Autistic Pride Events
If you would like to post a poster for your event below, please email it to us at team@autisticempire.com.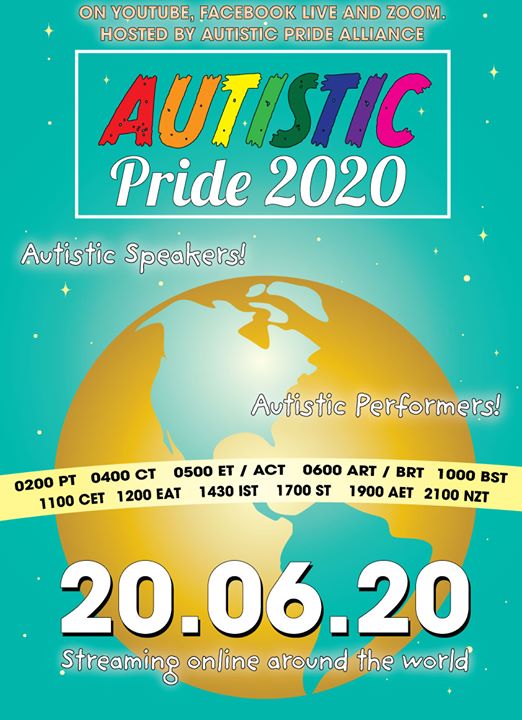 Due to the coronavirus pandemic, many outdoor Autistic Pride events can't happen for the foreseeable future, a group of Autistic Pride organisers have come together to create an online event, open to everybody from anywhere. Here we can be proud to be autistic and assert ourselves for a day.
It will be held on Zoom and streamed through YouTube. The link and joining instructions will be given soon, please see
the Facebook event
for more instructions. You don't need a Zoom account to join the event.
Provisional Speaking Schedule:
9:30 – 10 am – intro by Autistic Pride Alliance
10 – 11 am London Autistic Pride – Joseph Redford
11 – 12 am Aberdeen Autistic Pride @Marion McLaughlin
12-12:20pm Jess Benton
12:20 -1 pm: Children's time, Autistic Kids sending messages about how they are proud to be Autistic, and clips that the makers of Pablo have prepared for us.
1-2 pm Mark Blake – Autistic League/Autistic Pride Tunbridge Wells Removing M H Difficulties
2-3 pm Autistic Pride Reading
3-4 pm Billie Jo Gibson-Liverpool Autistic Pride – LGBTQIA+
intersectionality within the autistic community.
4- 5 pm – Autistic Paddies (Autistic Pride Dublin)
5-6 pm David Gray-Hammond, Neuroclastic
6-6:30pm Emma Dalmayne and William Vanderpuije
6:30- 7 pm Adrie Van Der Meer-Autistic Pride Eastbourne
7-7:30pm Dominic Peter Barron: Hull Autistic Pride
7:30-8pm Callum Brazzo
8-9 pm Sara Jane Harvey-Chester Autistic Pride
9- 10 pm Gwen Nelson History Of Autistic Pride and Why we Started it
Autistic Pride around the World
Due to the COVID-19 outbreak in March 2020, nearly all offline Autistic Pride events were cancelled for the rest of the year.
You can see a map of Autistic Pride Events all around the world in 2019:
Autistic Pride in the UK
Setting up an Autistic Pride event is super-easy and can be done with very short notice. If you have any questions about setting up an event where you are, you can join the "Autistic Pride Alliance" Facebook group for help with organising.